Let's forget about the fact that I didn't go to the beach yesterday and focus on how I cleaned the entire office, tidied up my work space, and finally swapped out all of my winter clothes for my summer clothes. Something came up with my friend, so we weren't able to go, but I can't complain because it feels so good to have a clean work space! Oh, and to know what clothes I have available to wear this summer.
Let's forget about the fact that I found a way to incorporate the last birthday cupcake into my after dinner snack.
No sugar added coconut milk ice cream, TruWhip, Justin's vanilla almond butter, and sprinkles make for my usual snack, but I felt the need to crumble a red velvet cupcake on top. I'll chalk it up as post birthday blues.
Let's forget about the fact that I may not be able to walk tomorrow after the leg workout I did today.
Let's forget the fact that Joe dressed up my egg this morning.
I stepped away for one minute and when I came back I noticed the '"beret", as Joe called it. I guess we now know another way to use spinach, aside from packing 3 cups of it into a smoothie. We proceeded to give him sprinkle eyes.
Let's not forget about the fact that I start training for my half marathon next week!
I worked out a plan that works perfectly with the vacations we'll be taking this summer. Luckily, we travel on Sunday and Thursday both times and those are rest day! As for the Labor day vacation I have planned, I'll just have to suck it up!
*****
WIAW – Weekly Grocery Haul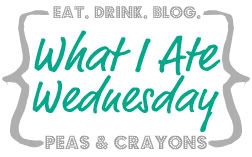 This week's haul was pretty lean. I already had chicken, beans, and some other things on hand so I didn't really need to stock up on a whole lot.
the usual smoothie necessities; spinach and berries
hummus
frozen brussels sprouts for quick meals
some more produce; avocado and bananas
the milks; almond & coconut
farm fresh eggies
chobes
silk creamer for my coffee addiction
And last but not least, a new to me bread that I couldn't pass by. It's made from sprouted wheat berries and contains organic flax seeds. it's only 50 calories per slice and is packed with nutrients. Wheee! I'm always so picky about sandwich bread. I see lots hummus and avocado sandwiches in my future.
That's it! I have a dentist appointment before work so I have to jet.
******
Question: For those of you who have done half marathons, or even marathons, what is your advice for lifting during training? I intended to do it on cross training days, but should I really be doing the elliptical or bike on those days, or does lifting count? I don't want to lose my muscle but I also don't want to burn own while training. Help!?