I'm back with another What I Ate Wednesday grocery style post.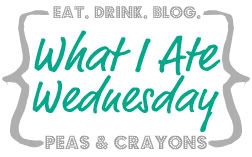 Every week, I pretty much buy the same staples plus whatever I need to cook for the week. This week was a little different. Because of my work schedule and knowing that I was going out to eat one day, I wasn't going to prepare anything big. I had a few things already on hand and decided to keep it cheap and only get what I needed to use them up.
The haul:
Smoothie necessities:
spinach
blackberries and blueberries
coconut milk
soy creamer (love)
sprinkles and whip (duh)
Luna bars were still on sale
bananas – all are not pictured, obviously. They would take up the entire photo.
fresh mutz
eggs
green beans
soap (on sale)
makeup cleansers
What I already had on hand:
pasta sauce
chicken
whole wheat angel hair
What came of it:
Chicken parm! It was super simple. I cooked the chicken in a pan covered in the sauce to keep it moist. When it was just about done cooking, I topped it with thin slices of mozzarella cheese. I served it over the angel hair with a side of green beans and an arugula salad. Everything was topped with parmesan cheese because it's a necessity.
Delicious dinner…
We didn't finish a bottle of wine on Sunday so I had a glass with my meal. It paired perfectly.
I have enough left overs for two more meals which is just what I needed to get me through the week.
What do you have in your cabinets or refrigerator that you need to use up?