I just got a call from work telling me that I'm not needed tonight. There was supposed to be a party but it was cancelled. So here I am, having my own party… on a plate!
Seriously, we have every color of the rainbow here! But more on that in a minute.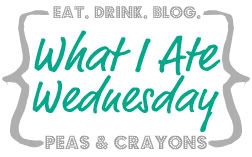 After spending my day off yesterday getting my hair and nails done (I finally feel like a girl again), I needed to spend this morning getting my life in order. First things first, grocery shopping! Joe suggested that I use our grocery store's home delivery service where you order online. Impossible. I want to pick out the bananas that are just the right ripeness and the sweet potato that's not too big and not too small. Online ordering simply just won't work for Miss OCD over here.
Plus, you never know what you're going to find while perusing down the aisles. I can't take a chance on missing something. Despite this, today was a quick trip and I picked up mostly the basics, besides for the few little sneaky items that found their way into my cart when I wasn't looking.
nanners (some ripe, some not, for eating fresh and freezing)
almond & coconut milk
horseradish and eggplant hummus
cottage cheese
strawberries
blackberries
spinach
fat free cool whip & sprinkles (the culprits)
avocado
peaches
red peppers
sweet potato
Mann's broccoli rainbow salad
I had intentions of using the canned tuna fish that has been in the cabinet for a while. The intention is always to use what I have on hand, but I somehow end up with more and more food that just sits there uneaten.
Thank god the tuna's expirations date is September 2014. Phew!
All this salad needs is some blueberries and it's a rainbow!
red peppers
orange peach skin
yellow peach insides & nooch
green broccoli & avocado
blue
purple cabbage
….and tuna mixed with cottage cheese and horseradish hummus
I was clearly a little impatient with the produce because the avocado and peach were not ripe.
Anyway, Joe and I are convinced that our diets have been so thrown off because we're used to having our peanut butter cool whip sprinkle spoons. This used to satisfy our sweet craving for the day, but it started to get a little out of hand so I stopped buying whip and sprinkles for a few months. Maybe this is why we've been satisfying our cravings with other options that are worse? Well, I bought one container of cool whip (they were on sale 10/$10!) so we can ease back into it. It's like giving a little kid a tub a candy; no self control at all.
I'm off to study! I was supposed to attend a Pedal NYC class tonight, but I thought I had work. Since I already had a pretty intense upper body & cardio workout this morning, I don't know if I'll attend now that I don't have work. I'm not typically a two a day person.
Have you ever worked out more than once in a day? I have in certain situations where, for example, I knew I had a yoga class planned, but wanted to do some cardio earlier in the day.
What's one thing you can't have in your kitchen because you have no self control around it? SPRINKLES!