I haven't done a What I Ate Wednesday in a while. Mainly, because I work all day Tuesday and then I realize it's Wednesday and I have no pictures. Today, I managed to snap some shots of what I ate today. So, here goes!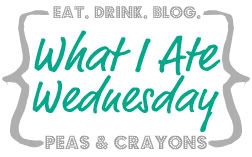 After a sweaty cardio & upper body session at the gym (boy, am I back-logged on workouts to share with you guys!), I fueled with a smoothie bowl, per usual.
The mix included 1/2 a frozen banana, a large handful of Trader Joe's frozen very berry cherry mix, almond milk, 1 scoop vanilla protein powder, spinach, and flax meal. It was super thick because I didn't put any ice and went light on the milk. I topped it with some granola and indulged.
After a good 1.5 hours of studying, I was hungry again. I went right for the Chobani. I remembered a while ago, trying Barney Butter smooth almond butter whipped into plain Chobani, so I gave it a go again. It's delicious! Especially topped with Pure Bliss Eats peanut butter chocolate granola (BLEND swag alert!).
Eventually, it was time to head to the grocery store. I was unable to stop at Trader Joe's yesterday after work because it was later than expected and they were closed. Bummer. I had to pay more that 19 cents for my bananas.
I did my usual walk around the edges of the grocery store with my reusable bags and easy check-outer device thing that my grocery store offers.
I stocked up one some necessities, as well as some ingredients to make a quick dinner.
Stuff I hate spending money on:
batteries (for smoke detectors)
Cottonelle wipes (gotta stay stocked on those!)
Tide Febreeze Sport
Produce:
blackberries
blueberries
avocado
cucumber
cilantro
spinach
watermelon
onion
pepper
bananas
campari tomatoes
corn (frozen)
Canned & Dry
Silk almond & coconut milks (I've been getting some crazy coupons lately for those.)
black beans
Skippy natural peanut butter
Hershey's special dark cocoa powder
Kashi GoLean Cereal (was on sale, plus it has 10g fiber and 13g protein per serving, whaa!?)
I immediately started chopping away. First, the watermelon! I may have eaten more than what went into the Tupperware (not really, but you know).
Next, I got started on dinner.
Mexican Couscous Salad
(way more than one serving – I like to make big batches to have for a few days
1 can black beans
1 bag organic frozen sweet corn
8 campari tomatoes, diced
1/2 medium vidalia onion, diced
1/2 large cucumber, seeded & diced
1 large red pepper, diced
lime juice, enough to coat veggies
3 T fresh cilantro, chopped
cumin, didn't measure, add it to your liking
sea salt & pepper to taste
optional: jalapeno, seeded and diced small
avocado*
2/3 cup (dry measurement) whole wheat couscous, cooked
I cooked 2/3 cup (dry measurement) Bob's Red Mill whole wheat couscous (Blend swag) on the stove. That's all I had left in the bag, so that's all I made! It ended up being just enough to mix into the veggies.
*I add diced avocado to each serving individually. If you add it to the mixture and store it in the fridge, the avocado is more likely to turn brown. I use what I need and store the rest of the avocado in an air tight container with the core.
There was pork loin (individually wrapped) in the freezer that I decided to defrost and grill. I spritzed it with olive oil and rubbed a mixture of cumin, paprika, chili powder, sea salt, and pepper on it.
I also ate a side of fresh cut watermelon.
Drizzled with lime juice….try it!
This dinner was probably the best I've made in a while. I have another pork loin defrosting for tomorrow & a lot of the mexican couscous salad left.
Now, I definitely need some type of snack or dessert! See you guys tomorrow morning with a fun giveaway!