Today, I did some things that were really out of the ordinary.
1. After doing an upper body strength training workout, I gave this new rope toy at our gym a try.
Joe and each pulled down on the rope for 2 minutes, 2 times. It literally works your entire upper body and I felt it as soon as I stepped away. A new workout incorporation, for sure. (check out the creeps in the background)
I later followed up with 25 minutes of HIIT on the elliptical.
2. I dug out the the summer storage tupperware to get a bathing suit and sandals. Helllooooo California!
Ugh, excuse the dirty rug in our office. Oh and those gross foot marks that sandals always get. What's with that?  I also packed sunscreen!
3. I got a mani-pedi.
Knowing that I'd be wearing sandals was a good enough reason. My feet were helpless prior to this considering I give up pedis during the winter. I also decided on a gel shellac manicure because I knew I was going to come home and pack and probably mess up my nails tonight before I even got there it will last longer.
Okay, enough of that, let's get down to business.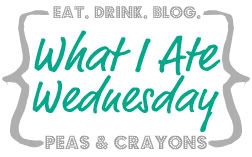 Breakfast
I won a Bear Naked Fit granola giveaway on
Trading up Downtown
from
Tina
and received the package last night. Obviously, I couldn't wait to dig in to both.
I decided breakfast needed to include granola. So, I did what I always do. Make a smoothie bowl and decide what topping I'm in the mood for.
Green smoothie (1/2 an apple, 1/2 a banana, vanilla protein powder, almond milk, spinach, flax meal, cinnamon, ice, xanath gum to thicken), sunflower seed butter, and vanilla almond crunch granola. A winning combination. Joe agreed, seeing as though we finished almost half the bag this morning.
Snack
An egg sandwich with black bean sauce and pepperjack cheese on a whole wheat english muffin.
I have no words……
Lunch (or snack #2)
I feel like my snack & lunch should have been reversed, but hey, whatever works.
Apple cinnamon Chobani toped with the other half of the apple from breakfast, cinnamon, sliced almonds, and what do you know? More granola. I couldn't help myself.
Dinner
The last of my spicy sweet potato & brown rice with black bean sauce. Today, I topped it with avocado and greek yogurt.
Late Night Snack
To be decided……….